Bang and Olufsen Beomaster 3000. Teak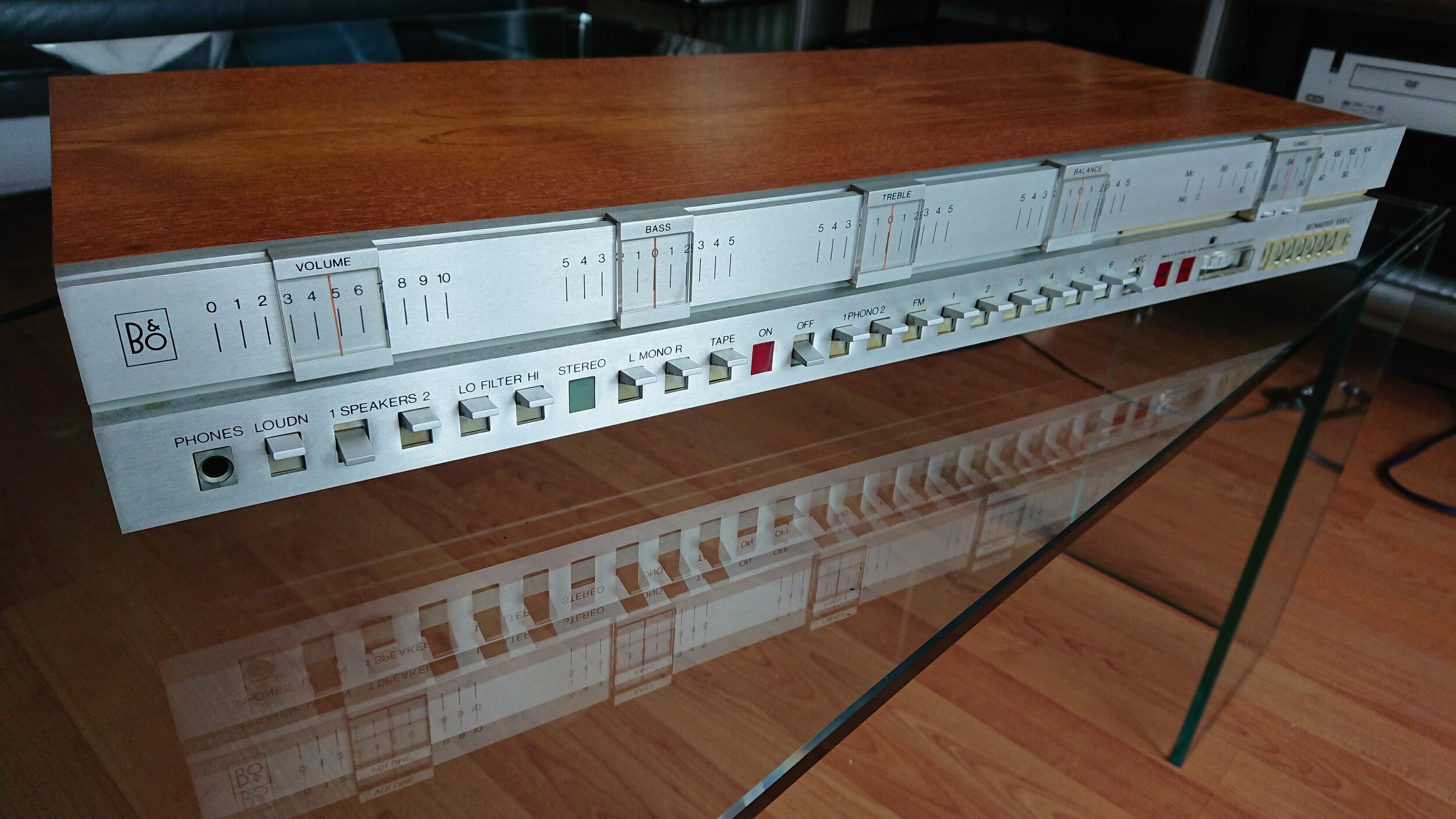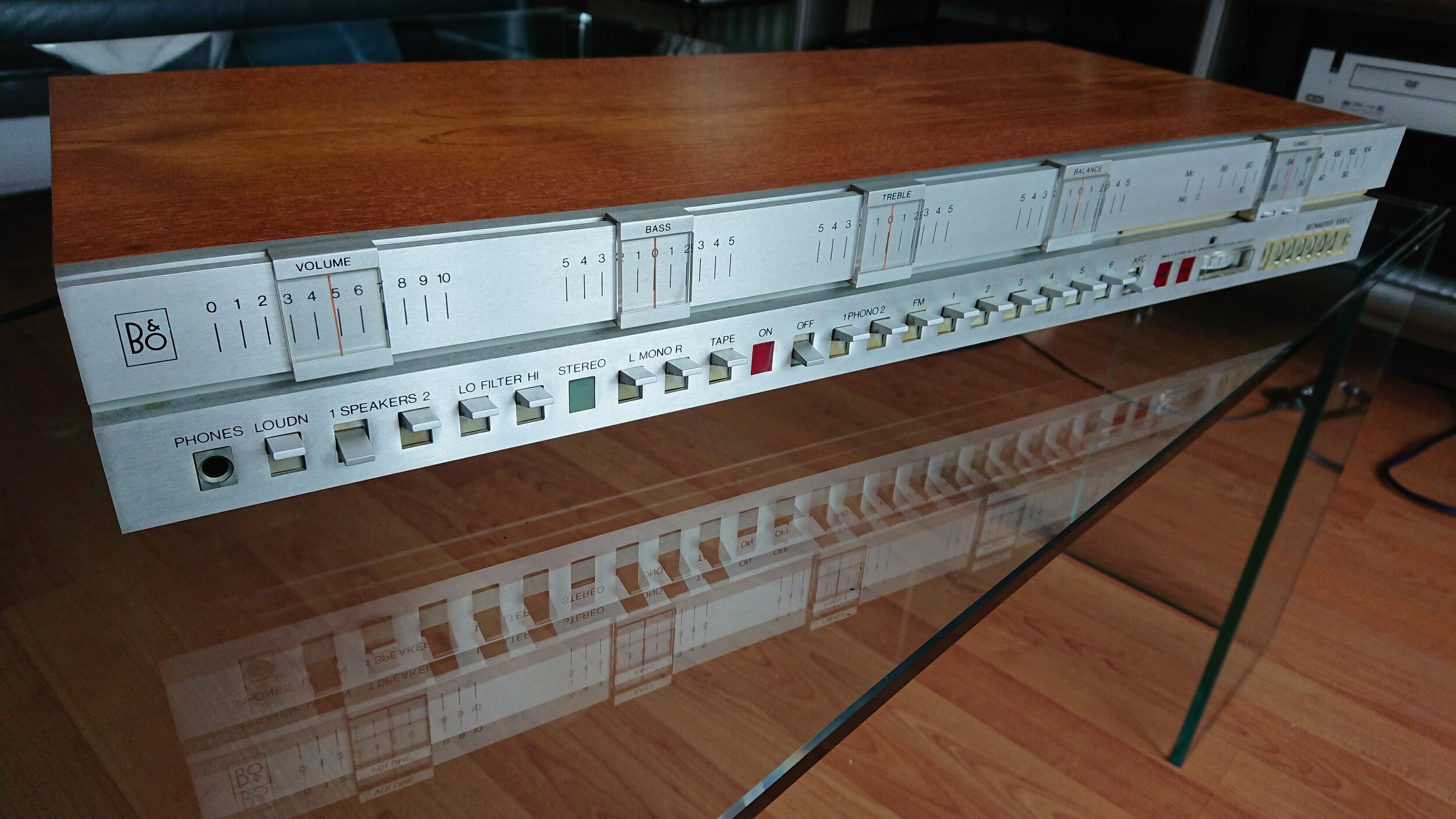 Bang and Olufsen Beomaster 3000. Teak
The Beomaster 3000 is a stereo tuner-amplifier, originally introduced by B&O as a flagship product in 1970. Emphasis was placed by B&O on high specifications, frequency correction, connection facilities and ease of use. The beautifully machined aluminium fascia and smooth slider controls remain a pleasure to use. A long row of toggle switches on the lower section of the fascia are also machined from aluminium.
The whole package produces the look of timeless elegance that can be appreciated today.

The Beomaster 3000 produces a healthy 30 watts RMS per channel and is packed with a myriad of facilities. The loudness control allows a subjectively richer sound at low sound levels and there are low and high filters, in addition to the normal bass and treble controls. The low filter helps reduce rumble resulting from a poor or defective record. There are sockets and push buttons for two pairs of loudspeakers with a headphone socket on the front of the receiver. Tape connection allows for off-tape monitoring and there are two record deck inputs. One is designed for connection of a magnetic cartridge and the other for a higher output, ceramic type. All the input levels can be adjusted from presets on the receiver's base so that all sources stay at the same sound volume when switched to, with no need to keep adjusting the volume control on the amplifier. There is a "test" function on the receiver which allows the user to balance the left and right input levels during this adjustment. Input sockets are DIN and RCA, making connection with non-B&O equipment easy.

The extraordinarily sensitive FM section has six pre-set stations. The powerful AFC on each of the presets pulls in and holds stations effectively, and a light indicator assists with accurate tuning. Another indicator registers the signal strength of a station.

A neutral and smooth sounding receiver, the Beomaster 3000 deserved every accolade it won. In 1972 the Museum of Modern Art in New York (MoMA) chose seven Bang & Olufsen products, designed by Jacob Jensen, to be included in their Design Collection as representing excellent examples of the Museum's criteria for quality and historical importance. The Beomaster 3000 was one of those seven products. Two years' previously the Beomaster 3000 won the iF Design Award.

This particular example is boxed and has been thoroughly serviced and lined-up to the manufacturer's original specification. The unit is set for many years of untroubled use, especially as the Beomater 3000 design is inherently very reliable. The original instruction manual will be supplied.

Specification.
POWER OUTPUT; 2 X 30 W RMS; 2 X 60 W MUSIC POWER
SPEAKER IMPEDANCE: 4 OHMS
DISTORTION: < 0.6 %
INTERMODULATION: < 0.6 %
BASS CONTROL RANGE: +/- 17 DB AT 50 HZ
TREBLE CONTROL RANGE: +/- 14 DB AT 10.000 HZ
TUNING RANGE: 87.5 - 108 MHZ
6 FM PRESETS
CONNECTIONS:
PHONO: 2 DIN 2 RCA
TAPE: IN/OUT DIN RCA
HEADPHONE SOCKET 1/4 INCH JACK
SPEAKERS: 2 SETS DIN
DIMENSIONS: W X H X D: 58 X 9.5 X 26CM
WEIGHT: 8.7 KG
POWER CONSUMPTION: 20 - 180 W
SWITCHABLE 110/130/220/240V