JVC P-L10 Pre-amplifier and M-L10 Power amplifier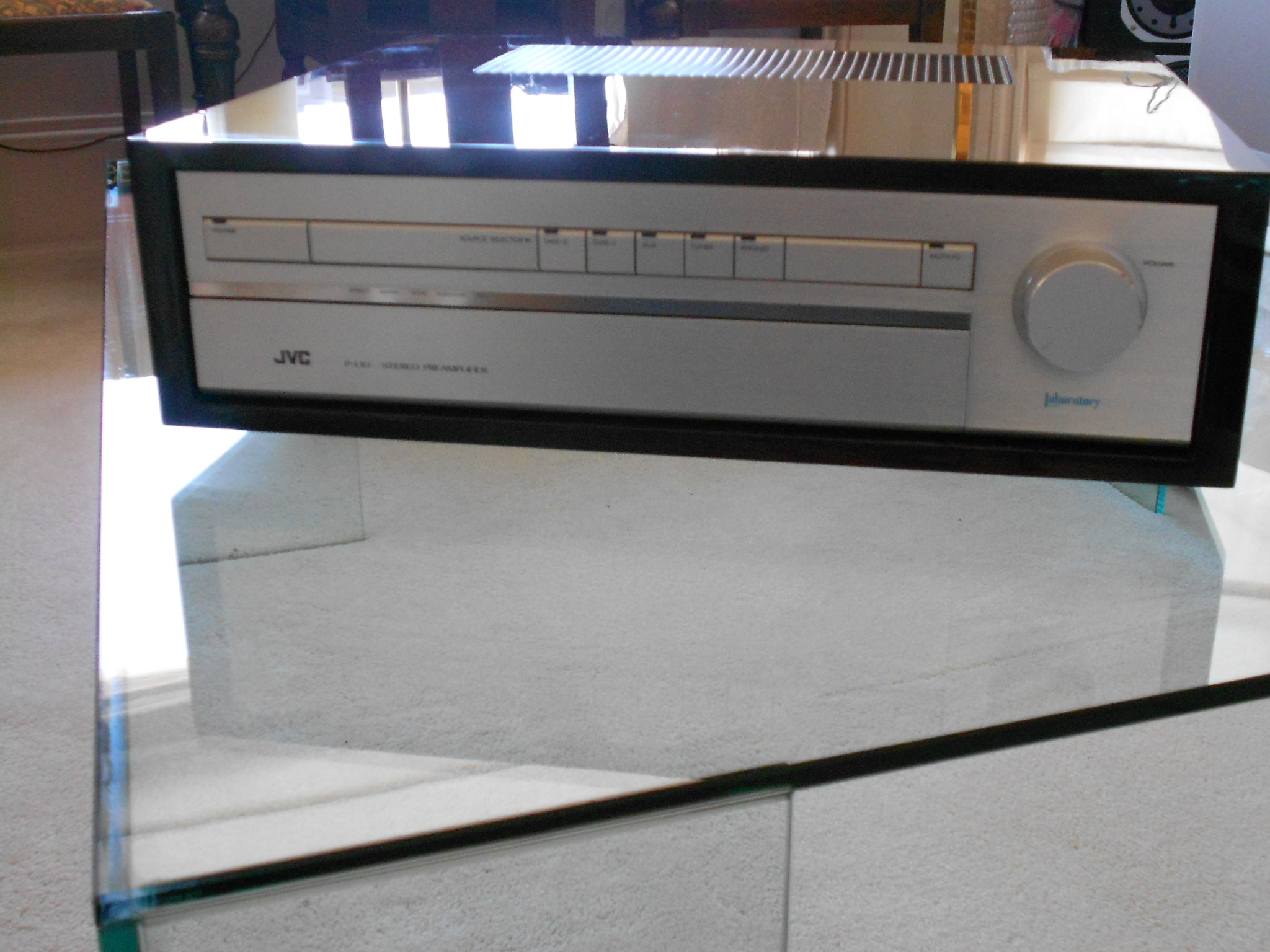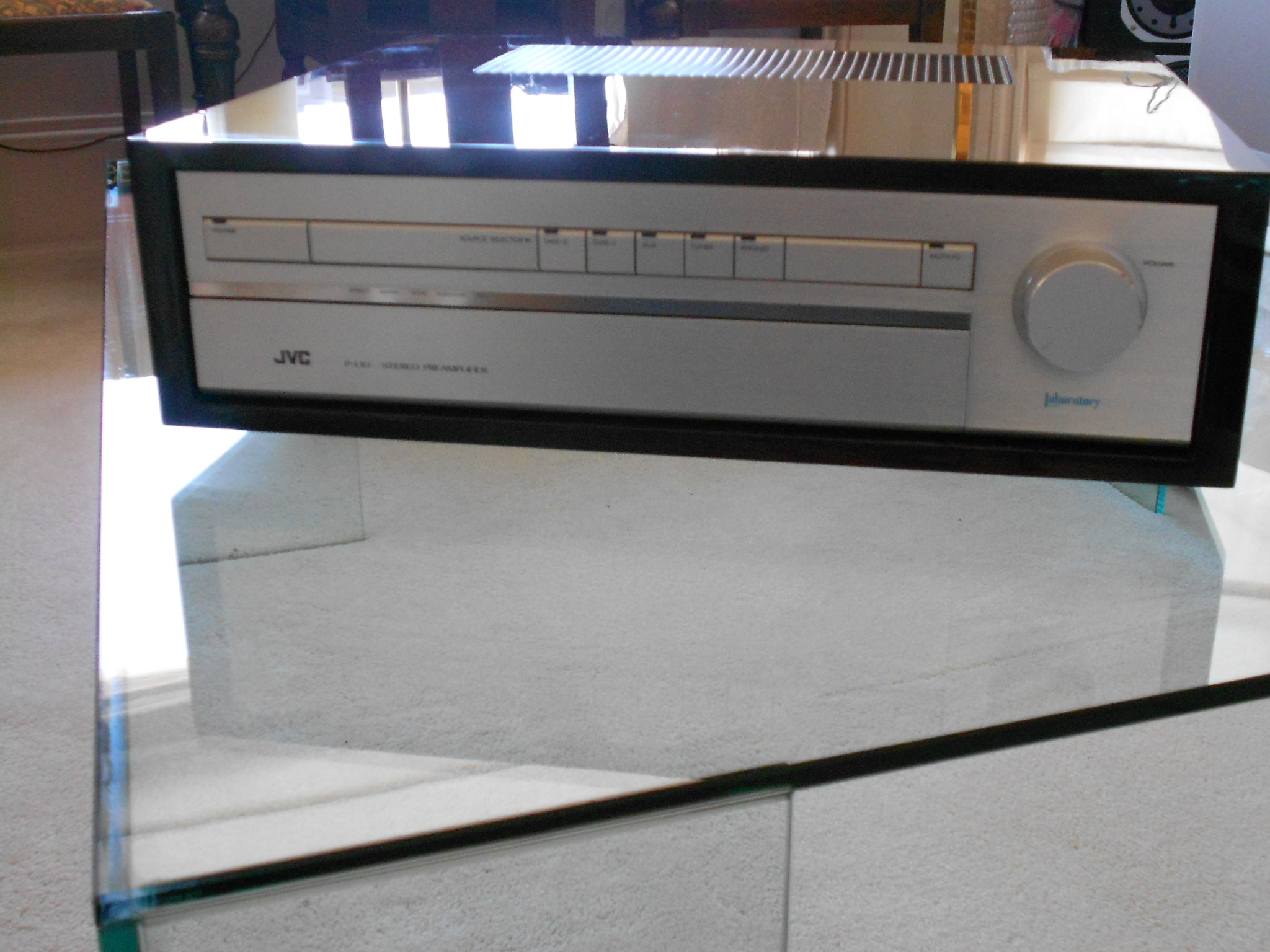 JVC P-L10 Pre-amplifier and M-L10 Power amplifier
JVC P-L10 preamplifier
The Japanese Victor Company was consistently overlooked audiophiles as a serious manufacturer of high-end products, particularly in the UK during the 70's and 80's.
The JVC P-L10 and M-L10 represented solid evidence of innovative and considered designs by JVC which rivaled the very best available anywhere.
Not only was the circuitry technically innovative, but it was beautifully housed too. Can audio equipment reside in a more elegant casing than these? Absolutely stunning in a highly lacquered rosewood case with uncluttered champagne brushed fascias, both the pr and power amplifiers are in entirely unmarked condition. Of course, fully serviced and checked, the units perform to or exceed the manufacturer's original specification.
A significant feature of the P-L 10 pre-amplifier was the GM Processor. This transforms voltage into current in order to amplify it, and converts it back into voltage. The P-L 10 is able to maintain an excellent signal-to-noise ratio with the use of GM processing in the volume control stage. Normally, the signal-to noise tends to deteriorate as the volume control is reduced from maximum to more normal listening levels, simply because residual noise remains constant. The culprit is the volume control, a variable resistor (potentiometer) which alters the signal-to-noise ratio depending on its position, with the best ratio obtained being only at maximum gain. At lower settings - those most frequently used - the noise ratio is less than optimum. Not only has "GM Volume" the ability to amplify signals and adjust their levels from minimum to maximum, at settings lower than maximum, noise level is actually lowered to the same degree as volume is reduced. Since GM Volume allows the amplifier always to deliver optimum gain, it provides a signal-to-noise ratio that is about 25dB better than that provided by conventional volume control designs. Moreover, the volume control itself is not in the signal path, and therefore sound quality cannot be degraded by distortion and crosstalk, often caused by poor mechanical contact resulting from track corrosion or dirt. Gm Processors are also used elsewhere in the pre-amp where it counts most - in the phono stage.
Other refined components were utilized and have, over the decades, proved exceedingly reliable: high-stability metal-film resistors, low-noise Zeners, silver-foil clad contacts and unetched capacitors.
In addition to the high specification internals, the lacquered wooden rosewood cabinets of the matching pre and power amplifier are visually stunning. On these examples, the finish has been perfectly restored to the point where the cases can best be described as appearing brand new. A recently developed tough lacquer has been employed to produce the mirror finish, but it also avoids the possibility of heat discolouration around the grilles, something which the original design suffered from.
The P-L10 Pre-amplifier is only sold partnered with the M-L10 Power amplifier. The quoted price includes both units.
JVC P-L 10 Pre-amplifier specification
Phono 1 MM : 2,5mV / 47kOhm
Settings : 100 Ohm / 47kOhm ; 470pF / 220pF / 47pF
Phono 1 MC : 200µV / 47kOhm
Settings : 100 Ohm / 47kOhm ; 470pF / 220pF / 47pF
Phono 2 MC : 70µV / 47kOhm
Settings : 100 Ohm / 47 Ohm / 10 Ohm
Tuner/Aux/Tape 1&2 : 150mV / 47kOhm
Outputs : 2V / 220 Ohm (pre out, Direct mode) 150mV / 220 Ohm (rec out)
THD : 0,002% (20Hz...20Khz at 15V rec out)
0,002% (20Hz...20Khz at 10V pre out)
S/N ratio : 85 / 84 / 92 dB (phono 1 MM ; IHF A / IHF-A202 / DIN) 68 / 77 / 82dB (phono 1 MC ; IHF A / IHF-A202 / DIN) 68 / 76 / 76dB (phono 2 MC ; IHF A / IHF-A202 / DIN) 105 / 100 / 110dB (lines ; IHF A / IHF-A202 / DIN)
Phono overload : 300mV (phono 1 MM ; 1Khz, 0,002% THD) 24mV (phono 1 MC ; 1Khz, 0,002% THD) 8mV (phono 2 MC ; 1Khz, 0,002% THD)
RIAA curve : ± 0,2dB (20Hz...20Khz)
Bass control : ± 8dB @ 100Hz
Treble control : ± 8dB @ 10Khz
Subsonic filter : 6dB/octave below 18Hz
Dimensions : 460 (W) x 144 (H) x 420 (D) mm
Weight : 12kg